Meet Sempra Energy Chairman and CEO, Jeffrey Martin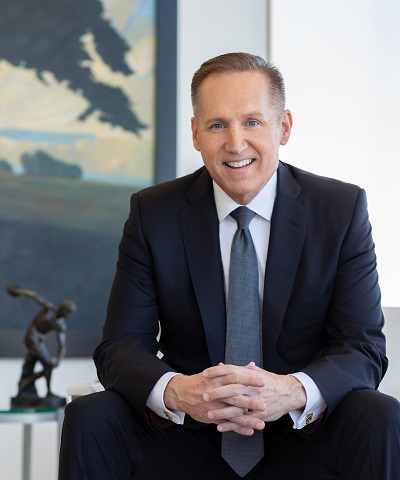 As chairman of the board of directors and chief executive officer of Sempra Energy, Jeff Martin leads a Fortune 500 energy infrastructure company with a market capitalization of nearly $40 billion and assets of over $65 billion. Over the last three years, Martin has led the company's strategic realignment around a new mission to become North America's premier energy infrastructure company by divesting non-strategic assets and reinvesting for growth in the largest economies in North America.
As CEO, Martin oversees a $32 billion capital plan, the largest in the company's history, and leads more than 19,000 employees, serving the daily energy needs of more Americans than any other company.
"Every day, our employees are united by the unique opportunity to make a positive impact on the communities we serve by delivering energy with purpose."
Jeffrey Martin, Chairman & CEO
In the News & Remarks
April 5, 2021, U.S.-Saudi Business Council:
Sempra Energy's Jeffrey Martin Speaks about Energy Infrastructure Innovations and Sempra's Role in Saudi Arabia's Energy Transition
February 25, 2021, MarketWatch:
Opinion: Renewables and Natural Gas Are Part of the Solution to Climate Change and Energy Poverty
December 11, 2020:
Sempra Energy's Jeffrey W. Martin Named Chief Executive Of The Year At S&P Global Platts' Global Energy Awards
October 16, 2020, World Economic Forum:
System Value Can Usher in a Future of Great Promise
September 30, 2020:
Jeffrey Martin's Keynote Address for the Gulf Coast Power Association
September 4, 2020:
Sempra Honors Employees at NYSE Virtual Closing Bell Ceremony
September 1, 2020:
Video: CEO Jeff Martin Speaks at Greater Houston Partnership USMCA Event
August 6, 2020:
Video: Interview with CEO Jeff Martin on CNBC Covers Strong Q2 Results
June 24, 2020:
CEO Jeffrey Martin Joins FERC Chairman, Neil Chatterjee, on the Envision Forum Podcast
January 16, 2020, World Economic Forum:
Here's How the Private Sector Can Lead the Global Energy Transition
December 11, 2019:
Sempra Energy CEO Addresses Energy Transition at Global Energy Forum
May 14, 2019:
CEO Jeffrey Martin's Full Remarks: Celebration of the Completion of Construction of Train 1 of Cameron LNG
March 13, 2019, The Wall Street Journal:
Trump's Secretary of State Wants Energy Companies to Help Spread U.S. Values
February 19, 2019, The San Diego Union-Tribune:
How Sempra Decided to go all in on Natural Gas — $10 Billion Worth
October 24, 2018, The San Diego Union-Tribune:
Sempra CEO Meets with Trump and Cabinet Members About LNG Growth
October 21, 2018, Forbes:
Inclusion as a Growth Strategy Part 2: Leadership in the Age of Personalization
---
Delivering Energy with Purpose