Celebrating 25 years
Since day one, we've chosen to look at the world — and how we deliver energy — differently. We've pursued a path of technology, innovation and talent, always keeping in mind our stakeholders, consumers and communities.
In a quarter of a century, we've persevered to overcome many obstacles — including economic downturns and the COVID-19 pandemic — and emerged stronger. We've also accomplished significant milestones, including the launch of one of the first LNG terminals on the West Coast, the creation of the Sempra Foundation and the installation of the first power-to-gas project in the U.S. We've come a long way since our ambitious beginning on June 28, 1998. And while we're celebrating our legacy of success, we're also finding inspiration for the next 25 years.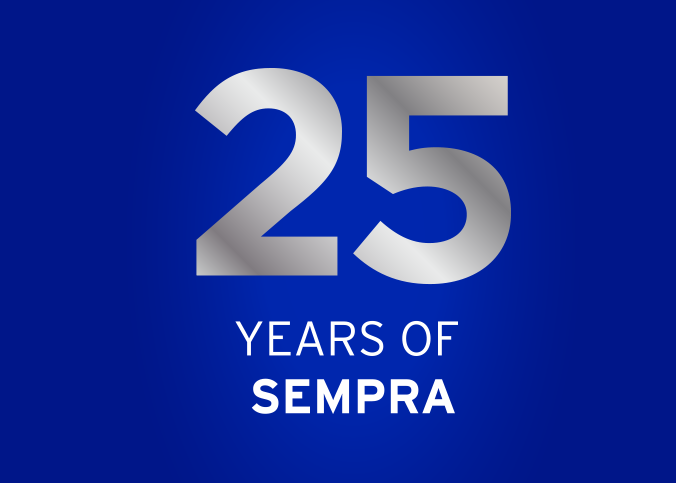 ---
25 years and going strong
In June 2023, Sempra's leadership team celebrated the company's 25th anniversary with special events and guests in New York City, initiating celebrations from coast to coast for 20,000 employees across the family of companies.
"

As we reflect on our company's history, one of the things we're most proud of is our willingness to look at the world differently. We continue to find new and better ways to serve our customers through technology and innovation.

"

Jeffrey Martin, Chairman & CEO
Our people make great things possible
Twenty-five years ago, Sempra set out to become North America's premier energy infrastructure company. Driven by a clear vision to deliver energy with purpose and a strong set of values, we have advanced 25 years of safety, innovation and service to others.
Our high-performance culture makes it possible for our family of companies to deliver energy with purpose, supporting and empowering the communities where we live and work. Every day, 20,000 talented employees show up with an unmatched passion for service to others, giving us confidence in our future and in our ability to continue advancing the transition to a cleaner world through safe, reliable energy.