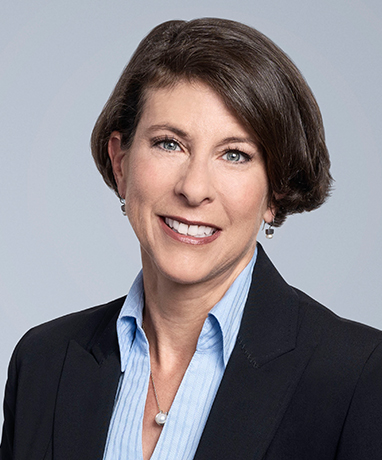 As Vice President of Talent Management for Sempra, Deborah Martin is responsible for helping advance Sempra's high-performance culture. Maintaining the company's reputation as a top workplace is one of her highest priorities, working with departments across our company to recruit, maintain and develop top-tier talent to advance the global energy transition. Learn more about Martin in this Q&A:
What are some immediate and long-term goals as Sempra's new vice president of talent management?
My ultimate goal is to build on the success of our high-performance culture so that we can continue to be an employer of choice and continue to attract, retain and develop some of the best talent. A big part of our culture is living our values — do the right thing, champion people and shape the future.

In this role, I have the position of working with the departments within our organization that have extensive interaction with our employees. These groups include human resources, organizational development, benefits, ethics and compliance and compensation. These teams bring new talent into the organization, develop that talent, provide top-notch benefits to support that talent, and provide avenues for investigation and remedying problems when we don't quite get it right. I want to help ensure we are championing our people with every interaction and at every stage of this process.
What trends do you see in the talent landscape within the energy sector? We are currently in a highly competitive market for talent. What differentiates Sempra and our family of companies from others as a best place to work?
As with the talent landscape in general, employees are becoming more discerning in where they want to work, whether it is in terms of compensation and benefits or looking for a culture that is a good fit for them. Sempra offers an exceptional culture, and we are constantly working to improve and evolve. Recently, we were named to the list of Top Places to Work in San Diego by The San Diego Union-Tribune, and it was especially gratifying because the result was entirely based on feedback from our employees.

Sempra is the recipient of many awards that recognize and validate our efforts, including being named one of Fortune Magazine's World's Most Admired Companies for 2022, for the 12th time, and being named one of America's Most Responsible Companies by Newsweek for the fourth consecutive year. Additionally, Sempra was named to The Wall Street Journal's Management 250 list, exhibiting a five-star rating in the employee engagement and development category.

One of the awards I really believe sets us apart is the recognition we have received for our sustainability efforts. We have been recognized by Investor's Business Daily as the number one company for both sustainability and financial performance. For sustainability, Sempra ranked first in the U.S. Utility Sector, and was 13th overall on the list. Our company's focus on sustainability means a lot to me personally, as sustainability is central to our corporate strategy, underpinned in Sempra's proactive management of environmental, social and governance risks and opportunities.
Our high-performance culture drives our mission to be North America's premier energy infrastructure company. What does Sempra's culture mean to you?
From my perspective and in my experience — this is a place where you can own your career. If you look around Sempra, you see that many employees change roles. For example, I am a lawyer that transitioned to a business role, and there are many other colleagues with similar stories.

We also provide an abundance of resources for employees to grow and learn in their current positions and areas of expertise. We invest a substantial amount in employee development, and we are working to make those resources easier for employees to access. But more fundamentally, we lead with empathy and allyship.

A great example of how we embrace and encourage those concepts is our enterprise-wide annual Diversity and Inclusion Summit, where we bring in experts and outside speakers to help us improve and thrive. This inspiring event, which we have put on for the last decade, helps us create a culture of belonging that allows our employees to thrive as individuals and collectively lifts up the company as a whole.
At Sempra, we believe we have one of the best workforces in the industry and that our high-performance culture continues to be our differentiator. Across our family of companies, our 20,000 employees regularly respond to challenges with composure and resilience, while maintaining our world-class safety standards and delivering energy with purpose. Learn more about how we develop top-tier talent and maintain our high-performance culture.