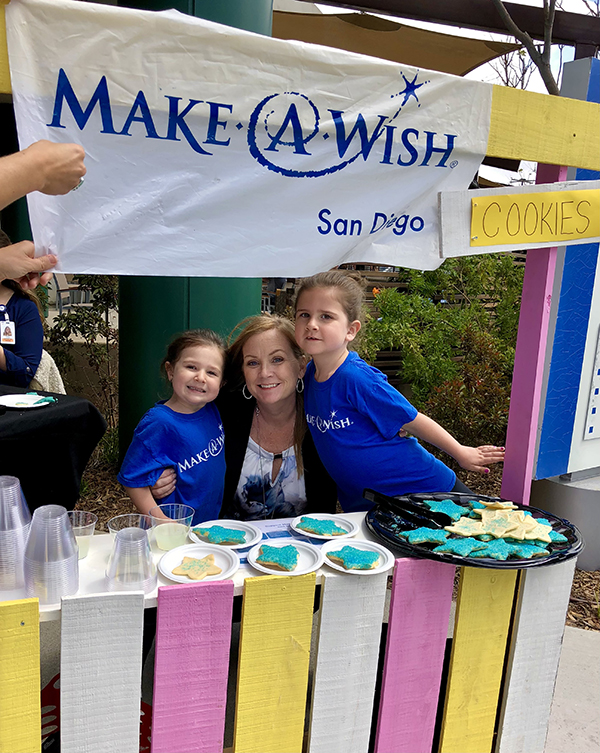 Karen Sedgwick is senior vice president, chief human resources officer for Sempra. In this role, Sedgwick works to advance Sempra's value of championing people through the range of services provided by the human resources team. Her team works to enable a dynamic workforce capable of fulfilling Sempra's vision to deliver energy with purpose. Sedgwick is responsible for managing human resource policies, organizational effectiveness, staffing, compensation, payroll and benefits.
Sedgwick has been a leading voice to help advance employee safety during the COVID-19 pandemic, advance diversity and inclusion initiatives and foster Sempra's high-performance culture.
Learn more in this Q&A with Karen Sedgwick:
You have been with the Sempra family of companies for almost 30 years. What do Sempra's values mean to you?
In my time at Sempra, I've never quite experienced a year like 2020. During this time, I've seen the company's values — do the right thing, champion people and shape the future — anchor us. Sempra employees are guided by our ethics, focus on safety, and our willingness to stand up for what's right, all while shaping a cleaner, more innovative energy future. This is no easy feat to accomplish, and it's been incredible and inspiring to see everyone rise to meet these challenges. Recently, we've coined the phrase "#WeAreSempra" as a short-hand to signify our values and related behaviors. When I think of how our employees have responded to the challenges of the year, that's a real example of "#WeAreSempra"!
As part of our high-performance culture, Sempra has a long-standing commitment to welcoming diverse perspectives and backgrounds. What is Sempra doing to promote an inclusive environment for all?
Fostering an inclusive work environment and embracing diverse backgrounds and perspectives is a key part of our company's high-performance culture. Advancing diversity and inclusion helps to shape an innovative workforce, where employees are encouraged and empowered to be their authentic selves. We believe this is critical to elevating performance and allows us to partner responsibly with our communities while we work toward building a more equitable and inclusive society for all.

Sempra has a long-standing history of promoting an inclusive environment where diverse perspectives and backgrounds are embraced. The family of companies offer a variety of programs to enhance diversity and inclusivity in the workplace, including 15 local employee councils, mentorship programs, training and educational webinars. We also include diversity and inclusion in our performance dialogues and as part of the annual bonus goals for our executives.

In 2021, we've committed to increasing transparency and implementing diverse interview panels for leadership positions. Understanding that a commitment to diversity and inclusion starts at the top, Sempra is a founding member of the CEO Action for Diversity & Inclusion initiative and a member of the Paradigm for Parity coalition which promotes gender parity in the workplace.

We've also received multiple recognitions for our company's commitment in this area, namely inclusion on Bloomberg's Gender Equality Index, the Human Rights Campaign's "Best Places to Work for LGBTQ Equality" list, and Forbes' Best Employers for Diversity.

One of my favorite parts about working at Sempra is our passionate employee culture that is committed to giving back to the communities where we operate. Last summer, Sempra launched a Social Justice Campaign to advance diversity and inclusion across communities the company serves, raising more than $715,000 in employee donations and matches. This kind of community engagement will continue to be a focus in 2021.
It was over one year ago when California closed its economy due to the outbreak of COVID-19. As vaccination efforts continue to increase and the state begins plans to reopen, how will Sempra help ensure that its employees and consumers remain safe?
Nothing at Sempra is more important than the safety of our employees, our contractors, and the communities we serve. At the onset of the pandemic, Sempra activated an enterprise-wide leadership team to support the response of the Sempra family of companies to the impacts of COVID-19 and identify and mitigate risks across our enterprise.

Because our operations were deemed essential by state and federal officials, we activated business continuity plans and safety protocols to continue to deliver energy safely to our customers in California, Texas and Mexico. Employees who can perform their job duties remotely, including those in corporate or administrative functions, have been working from home since the beginning of the pandemic. For our essential operating employees, comprehensive protocols and procedures have been put in place to help maintain their health and safety.

Despite the COVID-19 pandemic, 2020 was our safest year on record. Whether it's constantly improving our wildfire safety or setting new internal records in worker efficiency and safety through significant reductions in lost-time incidents across our companies, strong advocacy for safety occurs at every level of our company and is prioritized daily.

Meanwhile, as our country begins to emerge from the pandemic, we are committed to being flexible, thoughtful and safe when our business operations return to normal. We continue to closely monitor positive cases of COVID-19 and will work in coordination with local, state and federal authorities to determine when it will be safe to reopen our offices.
We know it has been a difficult year for employees. What is Sempra doing to support mental health?
We understand that the past year has presented unprecedented challenges to our employees, and not all of those are visible. Mental health is something we take very seriously. That's why we offer an employee assistance program (EAP), a professional and confidential counseling service that provides employees assessment, treatment, and referral services to community resources and licensed counselors who specialize in specific areas.

Also, we've launched a Community Conversation series to provide employees and leaders with a forum to discuss issues and topics surrounding calls for racial justice unfolding in our communities.

Our department is constantly looking for new ways to help employees as we grapple with the traumatic events of the past year. Our benefits team recently kicked off a process to evaluate and improve our mental health offerings. We're all in this together and are committed to the safety and wellbeing of all our employees.