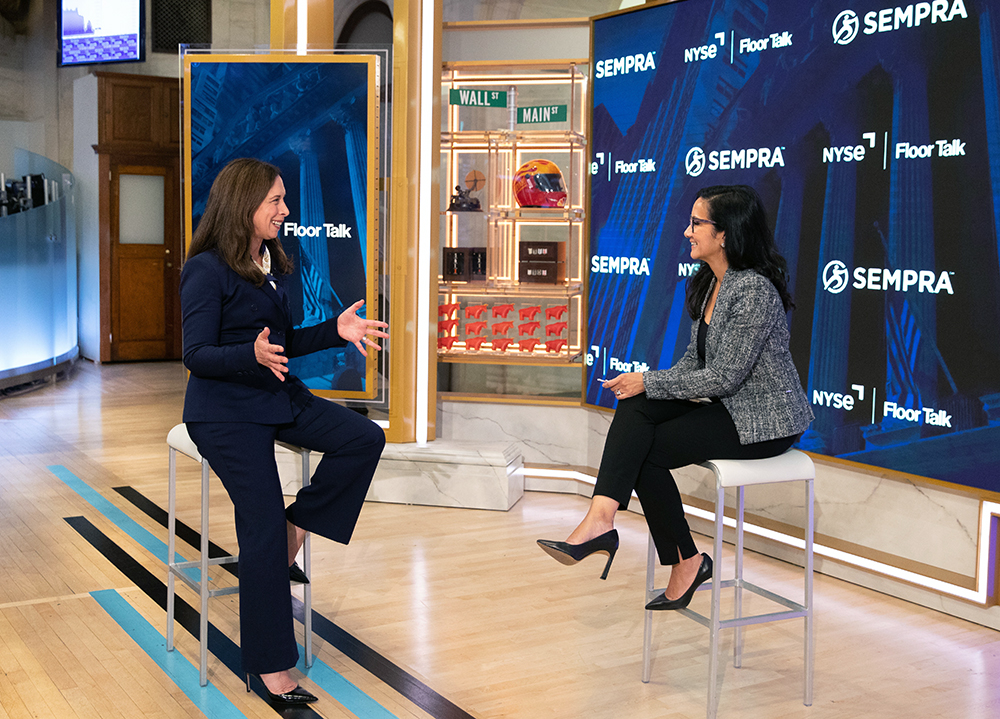 Everyone leaves an impression on Lisa Larroque Alexander — whether it's a retired teacher, an unsheltered youth or an employee at Sempra. If you've met Alexander or even walked by her on a street in San Diego, you've factored into her decisions at Sempra.
Alexander is the senior vice president of corporate affairs and chief sustainability officer for Sempra where she is regularly reminded of her team's impact on people.
"At Sempra, we believe everyone's job should contribute to our sustainable business practices and help advance the energy transition," Alexander said. "We must all act as sustainability practitioners because how well we do as a collective team determines how successful we are at delivering reliable, more affordable and cleaner energy to the people we serve."
Alexander will soon participate in Climate Week NYC, one of the largest annual climate events that brings together decision makers from around the world. Chief sustainability officers, like Alexander, will gather to talk about climate action initiatives underway and share their ideas to help the world reach net zero. However, for Alexander, the term "sustainability" expands beyond best environmental practices.
At Sempra, Alexander is driving responsible business practices with the aim to grow shareholder value in all aspects. She believes that doing well for shareholders starts with doing well for the environment, the business, the industry and most importantly, people — which includes investors, employees, consumers and other stakeholders and their communities. An employee at the Sempra family of companies for more than a dozen years, Alexander currently leads a diverse team that includes government affairs, branding, strategic communications and events, sustainability, corporate giving and political compliance and reporting.
Although sustainability has long been at the center of Sempra's business strategy, Alexander's personal commitments to safety, the environment, ethical governance and diversity and inclusion have furthered the company's goals. She collaborated with other leaders on multiple projects including the first power-to-gas green hydrogen pilot in the U.S., the company's inaugural Sustainable Financing Framework that established criteria for financing sustainable projects, and the launch of the company's net-zero greenhouse gas aspirations.
"We have carved a path of sustainable business practices that is 100% authentic to who we are, while also considering our role in tackling society's key energy challenges," Alexander said. "I often think about all the people who rely on Sempra's success — our investors, the millions who need reliable and safe energy to power their homes and businesses, and other stakeholders who count on our thoughtful and transparent engagement."
Driving the energy transition
Sempra's sustainable business practices begin at the leadership level. Alexander is tasked with bringing together internal and external stakeholders to create achievable action plans that will help enable the energy transition. But Alexander isn't limited to just guiding Sempra — she shares many of Sempra's best practices with other companies and policymakers through organizations like the World Economic Forum.
"It's heartening to see people come together," Alexander said. "A few years ago, the narrative of the just energy transition was largely aspirational. Today, stakeholders are coming together to have a more pragmatic and informed conversation about energy and how to do the right thing for decarbonization, energy security and affordability. Our company is well-positioned to take on the energy transition, and we are proud to collaborate with stakeholders for the benefit of all people."
Sempra is acting on a record five-year capital plan with a goal of improving safety, bolstering reliability and supporting the delivery of cleaner sources of energy across its three growth platforms: Sempra California, Sempra Texas and Sempra Infrastructure.
"We know the execution of our capital plan is vital to advancing the energy transition in the markets we serve," Alexander said. "We view our sustainable business practices as a way to reduce risk and unlock new opportunities."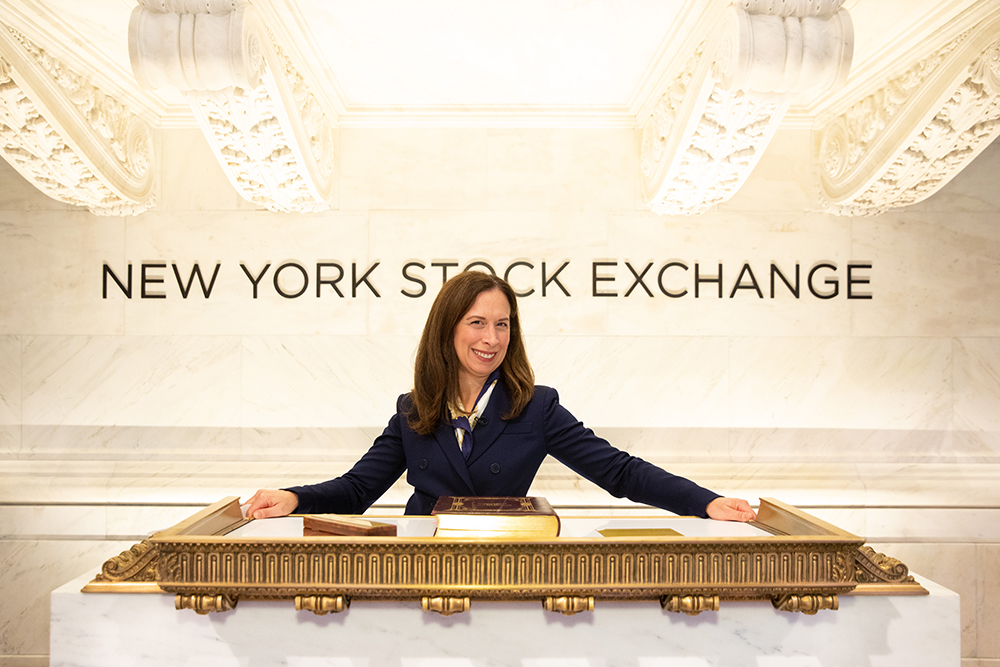 However, there are challenges ahead, Alexander said. For one, there's a need for new technologies to advance cleaner energy goals. Reports, including from the International Energy Agency, suggest 50% of the technology that is needed to reach global net-zero goals does not currently exist. Diversity of thought will be critical to drive innovation across the industry. Secondly, there's the concern about affordability.
"The developed world is moving faster than the developing world," Alexander said. "A lot of people believe the energy transition will be a smooth reduction of emissions over time. I believe that there is still a lot of uncertainty as we work to reduce our emissions while also providing customers access to affordable and reliable energy solutions. We need to figure out how to navigate that together, so we are working toward a more just energy transition."
Championing people
It's fitting that Alexander, who is dedicated to serving people, is also the board chair for the Sempra Foundation, a private foundation solely funded by Sempra. The Sempra Foundation's mission is to build an equitable and vibrant future for all by focusing on three priorities: Climate action, diversity and inclusion, and economic prosperity.
Alexander considers it a duty for the Sempra Foundation to "make investments in the communities we serve that will lead to transformative change."
"Every company has an obligation to help the communities where their employees, customers and stakeholders live and work," Alexander said. "We are fortunate to see our positive impact extend beyond North America."
Since its founding in 2007, the Sempra Foundation has given more than $50 million in donations to charitable organizations, $3 million in disaster relief efforts and $2.5 million to energy access projects.
Although Alexander is proud of all the work the Sempra Foundation has supported, she is most touched by the youth-oriented work. For example, the Sempra Foundation has supported the Switch Energy Alliance's annual Case Competition where students around the world worked together to solve energy poverty. Many of the students involved in the Case Competition have first-hand experience with energy poverty.
"I love seeing the excitement and passion from young people around the world," Alexander said. "We are seeing the rising stars who will drive our future and the future of energy. If we do our jobs correctly, we can create momentum so the next generation can do it better than us."
---
This article contains statements that constitute forward-looking statements within the meaning of the Private Securities Litigation Reform Act of 1995. Forward-looking statements are based on assumptions with respect to the future, involve risks and uncertainties, and are not guarantees. Future results may differ materially from those expressed or implied in any forward-looking statement. These forward-looking statements represent our estimates and assumptions only as of the date of this article. We assume no obligation to update or revise any forward-looking statement as a result of new information, future events or otherwise.
In this article, forward-looking statements can be identified by words such as "believes," "expects," "intends," "anticipates," "contemplates," "plans," "estimates," "projects," "forecasts," "should," "could," "would," "will," "confident," "may," "can," "potential," "possible," "proposed," "in process," "construct," "develop," "opportunity," "initiative," "target," "outlook," "optimistic," "poised," "maintain," "continue," "progress," "advance," "goal," "aim," "commit," or similar expressions, or when we discuss our guidance, priorities, strategy, goals, vision, mission, opportunities, projections, intentions or expectations.
Factors, among others, that could cause actual results and events to differ materially from those expressed or implied in any forward-looking statement include risks and uncertainties relating to: California wildfires, including potential liability for damages regardless of fault and any inability to recover all or a substantial portion of costs from insurance, the wildfire fund established by California Assembly Bill 1054, rates from customers or a combination thereof; decisions, investigations, inquiries, regulations, denials or revocations of permits, consents, approvals or other authorizations, renewals of franchises, and other actions by (i) the California Public Utilities Commission (CPUC), Comisión Reguladora de Energía, U.S. Department of Energy, U.S. Federal Energy Regulatory Commission, Public Utility Commission of Texas, and other governmental and regulatory bodies and (ii) the U.S., Mexico and states, counties, cities and other jurisdictions therein and in other countries where we do business; the success of business development efforts, construction projects and acquisitions and divestitures, including risks in (i) being able to make a final investment decision, (ii) completing construction projects or other transactions on schedule and budget, (iii) realizing anticipated benefits from any of these efforts if completed, and (iv) obtaining the consent or approval of third parties; litigation, arbitrations, property disputes and other proceedings, and changes to laws and regulations, including those related to the energy industry in Mexico; cybersecurity threats, including by state and state-sponsored actors, of ransomware or other attacks on our systems or the systems of third parties with which we conduct business, including the energy grid or other energy infrastructure, all of which have become more pronounced due to recent geopolitical events; our ability to borrow money on favorable terms and meet our obligations, including due to (i) actions by credit rating agencies to downgrade our credit ratings or place those ratings on negative outlook or (ii) rising interest rates and inflation; failure of foreign governments, state-owned entities and our counterparties to honor their contracts and commitments; the impact on affordability of San Diego Gas & Electric Company's (SDG&E) and Southern California Gas Company's (SoCalGas) customer rates and their cost of capital and on SDG&E's, SoCalGas' and Sempra Infrastructure's ability to pass through higher costs to customers due to (i) volatility in inflation, interest rates and commodity prices, (ii) with respect to SDG&E's and SoCalGas' businesses, the cost of the clean energy transition in California, and (iii) with respect to Sempra Infrastructure's business, volatility in foreign currency exchange rates; the impact of climate and sustainability policies, laws, rules, regulations, disclosures and trends, including actions to reduce or eliminate reliance on natural gas, increased uncertainty in the political or regulatory environment for California natural gas distribution companies, the risk of nonrecovery for stranded assets, and our ability to incorporate new technologies; weather, natural disasters, pandemics, accidents, equipment failures, explosions, terrorism, information system outages or other events that disrupt our operations, damage our facilities or systems, cause the release of harmful materials or fires or subject us to liability for damages, fines and penalties, some of which may not be recoverable through regulatory mechanisms or insurance or may impact our ability to obtain satisfactory levels of affordable insurance; the availability of electric power, natural gas and natural gas storage capacity, including disruptions caused by failures in the transmission grid, pipeline system or limitations on the withdrawal of natural gas from storage facilities; Oncor Electric Delivery Company LLC's (Oncor) ability to reduce or eliminate its quarterly dividends due to regulatory and governance requirements and commitments, including by actions of Oncor's independent directors or a minority member director; changes in tax and trade policies, laws and regulations, including tariffs, revisions to international trade agreements and sanctions, any of which may increase our costs, reduce our competitiveness, impact our ability to do business with certain counterparties, or impair our ability to resolve trade disputes; and other uncertainties, some of which are difficult to predict and beyond our control.
These risks and uncertainties are further discussed in the reports that Sempra has filed with the U.S. Securities and Exchange Commission (SEC). These reports are available through the EDGAR system free-of-charge on the SEC's website, sec.gov, and on Sempra's website, sempra.com. Investors should not rely unduly on any forward-looking statements.
Sempra Infrastructure, Sempra Infrastructure Partners, Sempra Texas, Sempra Texas Utilities, Oncor and Infraestructura Energética Nova, S.A.P.I. de C.V. (IEnova) are not the same companies as the California utilities, SDG&E or SoCalGas, and Sempra Infrastructure, Sempra Infrastructure Partners, Sempra Texas, Sempra Texas Utilities, Oncor and IEnova are not regulated by the CPUC.