Across the Sempra family of companies, our strategic focus on technology and innovation powers progress. This is due to the hard work of Sempra engineers whose creativity and work ethic positively impact the communities we serve and help us lead the global energy transition.
This National Engineers Week, meet three engineers whose work with hydrogen, liquefied natural gas (LNG) and community service projects connects communities and empowers the next generation of thoughtful innovators.
May Kwan, SoCalGas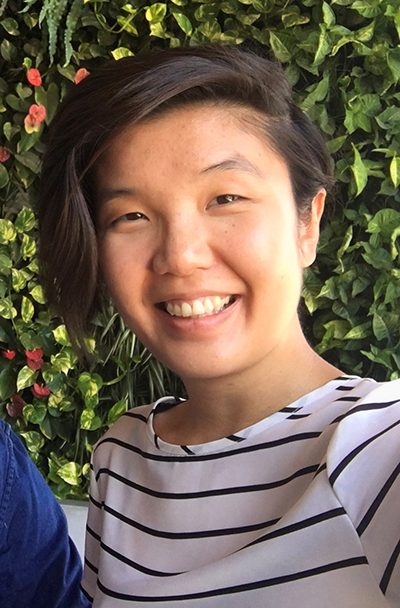 Engineer on the renewable natural gas and hydrogen engineering strategy team at SoCalGas, May Kwan has played an integral role in building the framework for how hydrogen blending technology will be integrated into existing natural gas systems in California.
"Hydrogen blending is one of the clean energy pathways to help California achieve its climate goals," said Kwan. "Our team is currently working on one of the first residential hydrogen blending demonstration in the country and research projects that will fill knowledge gaps."
Because of the importance of wind and solar energy resources to a lower carbon energy system, SoCalGas is exploring alternative ways to store the energy. A technology known as power-to-gas (P2G) is being deployed throughout the world as a complementary storage solution to batteries.
P2G works by taking the electricity generated from solar and wind, combining it with a small amount of water and running it through electrolysis. This process converts the electrical energy into chemical energy, splitting the water molecule into pure hydrogen and oxygen. The hydrogen can either be used as a fuel or it can be blended with natural gas and delivered to customers through the natural gas system.
"I am proud to contribute towards SoCalGas' mission to build the cleanest, safest, and most innovative energy company in America," said Kwan.
Involvement with one of the most innovative corners of the energy industry isn't without its difficulties. However, finding solutions to difficult questions is what Kwan loves most about her role.
"I enjoy performing data analysis and using the results to solve problems and make improvements," said Kwan. "Using data to collaborate with others to drive improvements makes engineering a fulfilling career for me."
Rob Webber, Sempra Infrastructure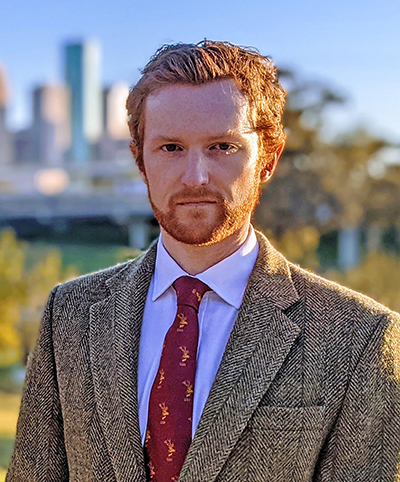 Robert Webber is LNG engineering manager for Sempra Infrastructure, responsible for the Phase 1 Energía Costa Azul (ECA) LNG export project in Mexico.
Prior to joining the ECA LNG project, Robert was the lead process engineer for the Cameron LNG export facility in Hackberry, Louisiana.
"The project I am most proud of is the Cameron LNG project," said Webber. "It was a very large and complex project and I was fortunate enough to be involved from the very first phase of design all the way through to start-up and performance testing. It was extremely satisfying to see many years of design and planning successfully come to fruition."
Cameron LNG began commercial operations in 2019 and was developed to meet the growing demand for energy around the world with three liquefaction trains to safely process and load LNG supplies onto ships. With many countries still reliant on polluting energy sources such as coal, LNG presents a lower-carbon alternative to aid in the overall global energy transition.
With 12 years of professional experience dedicated to the LNG industry, Webber has served in various engineering roles in all phases of project development and construction of natural gas liquefaction plants—giving Webber the chance to make a widespread impact.
"My favorite thing about engineering is the constant opportunity to learn new things and work with cutting edge technology to make a genuine impact in the world and on people's lives. The projects I work on provide energy to thousands, if not millions, of people around the world, which gives me a genuine sense of purpose in what I do."
Jamie Padilla, SDG&E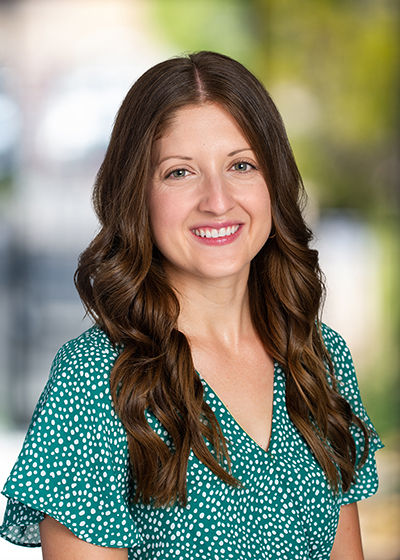 A second-generation Sempra employee, Jamie Padilla is an engineer on the technical analysis team with SDG&E. Her passion for her work not only makes a positive impact toward building SDG&E's transmission infrastructure, but her positive attitude embodies Sempra's value of shaping the future.
"The word 'engineering' naturally gives off feelings associated with difficulty and intensity to the average person," said Padilla. "Don't get me wrong, I think engineering can be both those things, but at the end of the day, I believe engineering is just problem solving. My biggest goal in life is to make a positive impact on the world and in the lives of the people I meet, and being an engineer allows me to do that for a living."
Padilla is making a positive impact by mentoring and encouraging young women to pursue STEM (science, technology, engineering and math) careers.
"I think it is my responsibility as a successful woman engineer to be a role model for my community. Over the past four-plus years of working at SDG&E, I have done countless outreach events to share my story and to encourage our youth, specifically females, to pursue STEM careers. I have sat on discussion panels and have given presentations to 7-year-olds, 21-year-olds and almost every age group in between. It's been a very rewarding experience thus far and I am truly grateful to work for a company that is supportive of such an important initiative."
Padilla attests that her mother, Leslie, who worked for SDG&E for 14 years and Sempra Renewables for 20 years as an engineer, served as that positive role model for her — a legacy she is proud to continue.
"My mother not only left a lasting impact on the company but, more importantly, on the lives of her co-workers. Sometimes I am nervous to fail, but I am mostly determined to work hard and bring the same passion to my job like she did day in and day out for 34 years."