Developing a World-Class LNG
Exports

Portfolio

Sempra Energy is a leader in North America's growing liquefied natural gas (LNG) export market, developing the infrastructure to bring cleaner, more reliable and more affordable energy to the world. Sempra Energy's LNG projects will leverage North America's abundance of natural gas through LNG exports to reduce our trade deficit, create jobs, meet global energy demand and improve the energy security of our allies.

Sempra LNG , a Sempra Energy subsidiary, is pursuing five strategically located LNG projects  in North America, with access to both the Atlantic and Pacific basins, with a goal of delivering 45 million tonnes per annum (Mtpa) of LNG to the largest world markets looking for gas supply diversification and energy security. The Sempra LNG exports portfolio includes projects at three locations, each with strong commercial momentum:
Cameron LNG
Hackberry, Louisiana, USA
Cameron LNG Project
Port Arthur LNG
Jefferson County, Texas, USA
Port Arthur LNG Project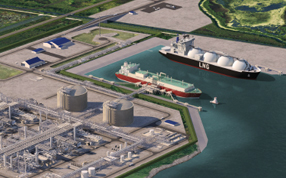 ECA LNG
Ensenada, Baja California, Mexico
Energia Costa Azul LNG Project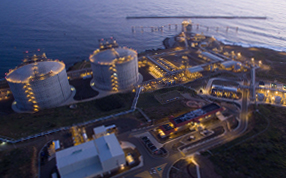 LNG Projects: Sempra's Permian to Pacific Highway
In the form of LNG, natural gas can be shipped from parts of the world where it is abundant to where it is in demand. North America's vast supplies of natural gas near the Gulf Coast region provide LNG projects direct access to existing pipelines and storage infrastructure.
Sempra LNG's liquefaction project at Energía Costa Azul, located on Mexico's west coast less than 60 miles south of San Diego, will connect to natural gas supplies in Texas to help form the "Permian to Pacific" highway, reducing the time it takes for U.S. natural gas to travel to Asian markets from an average of 21 days to approximately 11 days.
What are the benefits of LNG?
What is liquefied natural gas, or LNG? LNG is a natural gas that has been supercooled to minus 260 degrees Fahrenheit. At that temperature, natural gas condenses into a liquid, which takes up to 600 times less space than in its gaseous state, making it feasible to transport over long distances.
What are some qualities and benefits of LNG? It is odorless, colorless, non-corrosive and non-toxic. Its weight is less than one-half that of water. Natural gas is the world's cleanest burning fossil fuel. When combusted, natural gas generates 50% less carbon dioxide than conventional fuels.
The use of LNG is a proven, reliable and safe process, and it has been used in the United States since 1917. Transportation of LNG via ship has a long record of safe operation. In LNG's more than 50-year shipping history, LNG ships have traveled more than 150 million miles without a major incident.