Subheadings
AB 847 signed by governor stems from collaboration between Assemblymember Quirk and SDG&E
Body
Each year, electrically-conductive foil balloons – popular for celebrating birthdays, graduations and other special occasions – cause thousands of power outages across California and the nation when they get tangled up in power lines. Occasionally, foil balloons caught in power lines also spark fires and bring down electrical wires. (See this dramatic footage of a foil balloon in power lines. Additional video and photos available for download here.)
To help reduce fire risk and prevent power outages, manufacturers and retail outlets in California will be required to gradually phase in the production and sale of non-electrically conductive foil balloons in the coming years. This change is prompted by new legislation signed by Gov. Gavin Newsom and sponsored by Assemblymember Bill Quirk (D-Hayward) in collaboration with San Diego Gas & Electric.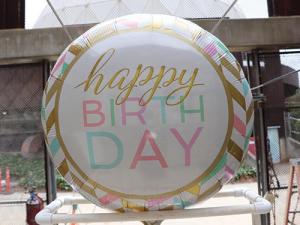 "Balloon safety can go a long way in preventing power outages and fires," said Assemblymember Quirk, D-Hayward. "With California facing increasing wildfire risks and electric reliability challenges due to climate change, it's important that we do everything we can to mitigate fire risk and prevent power interruption."
Under Assembly Bill 847 signed by the governor on Sept. 18, anyone who sells and makes any foil balloon for sale is required to ensure that those balloons meet certain requirements, including passing a standard test (IEEE 2845) that is approved by the Institute of Electrical and Electronics Engineers (IEEE). Per the legislation, non-electrically conductive foil balloons will be phased in over several years, after the IEEE approves the final standard for testing non-conductive foil balloons or by Jan. 1, 2027, whichever is later.
"Our top priority at SDG&E is to provide safe and reliable service to our customers," said SDG&E CEO Caroline Winn. "That's why our engineers persisted over the past decade to develop an innovative balloon material that looks just like a regular foil balloon but doesn't cause outages or increase fire risk – solving an industry-wide problem."
Seeking to solve the conductivity issue with metallic balloons while still allowing foil balloons to remain a consumer product, SDG&E worked with a leading U.S. balloon manufacturer, Anagram, to develop and test a balloon made of non-conductive, shiny material. This balloon was successfully tested in conditions common to SDG&E's, Southern California Edison's (SCE), and Pacific Gas & Electric's (PG&E) electrical distribution systems.
In SDG&E's service territory, existing foil balloons cause around 100 power outages each year and have sparked an average of 3 to 4 reportable fires every year from 2015 to 2021. In fact, over the six years, SDG&E recorded over 700 outages and 28 reportable fires all due to foil balloons coming into contact with overhead power lines. This happens because the metallic exterior of the foil balloon conducts electricity, so when it floats into an overhead power line the balloon can cause an electrical fault, blackouts, or worse, sparks that can start fires. Elsewhere in California, PG&E reported that metallic balloons that drifted into its power lines caused more than 600 outages in 2021, a 27% increase from the previous year and the highest number of balloon-related outages the company has seen in a decade. In 2021, SCE recorded 1,103 outages caused by metallic balloons that impacted 1.6 million customers for 7,630 hours.
SDG&E is an innovative San Diego-based energy company that provides clean, safe and reliable energy to better the lives of the people it serves in San Diego and southern Orange counties. The company is committed to creating a sustainable future by providing its electricity from renewable sources; modernizing natural gas pipelines; accelerating the adoption of electric vehicles; supporting numerous non-profit partners; and, investing in innovative technologies to ensure the reliable operation of the region's infrastructure for generations to come. SDG&E is a subsidiary of Sempra (NYSE: SRE). For more information, visit SDGEnews.com or connect with SDG&E on Twitter (@SDGE), Instagram (@SDGE) and Facebook.
Elected in 2012, Bill Quirk brings his PhD in astrophysics and career as an educator and scientist to the State Assembly. He is the Chair of the Assembly Committee on Environmental Safety and Toxic Materials. He is also Chair of the Select Committee on California's Clean Energy Economy. He is a member of the Appropriations, Public Safety, Revenue and Taxation, and Utilities and Energy Committees. Website of Assemblymember Quirk: https://a20.asmdc.org/.