Sempra Energy
2018 Annual Report
Building North America's Premier Energy Infrastructure Company
Connecting millions through the power of people, ideas and innovation
"Every day, our employees are united by the unique opportunity to make a positive impact on the communities we serve by delivering energy with purpose. The strength of our culture, including our employees' collective focus on our vision, is our differentiator. I could not be more enthusiastic about the growth opportunities ahead of us — we're all about charting our own path as we aspire to become North America's premier energy infrastructure company."

Jeffrey W. Martin, Chairman and CEO
OUR VISION
Delivering energy with purpose
OUR MISSION
To be North America's premier energy infrastructure company
OUR VALUES
Do the right thing
We are guided by our ethics, our focus on safety and our willingness to stand for what is right.
Champion people
We invest in people and value diversity and inclusion because it elevates performance and helps us partner responsibly.
Shape the future
We are forward thinkers who innovate and collaborate with stakeholders to make a positive difference.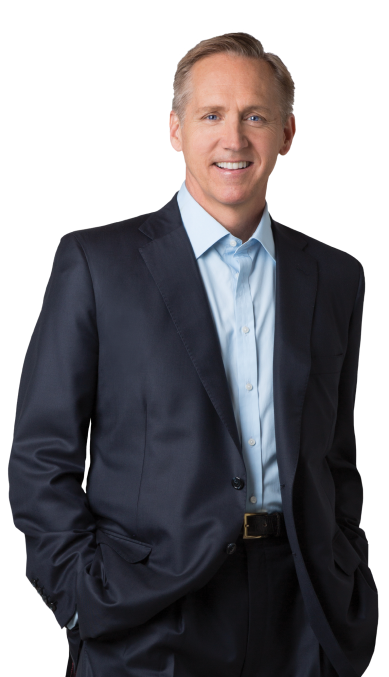 Fellow Shareholders:
At Sempra Energy, we are always looking for new and better ways to serve our customers. It drives our employees' sense of purpose every day. We know that improving the lives of those we serve also helps make our company even more valuable for all our stakeholders. Sempra's vision reflects this commitment: delivering energy with purpose.
NORTH AMERICA'S PREMIER ENERGY INFRASTRUCTURE COMPANY
I am very proud of the progress we made in 2018 to advance our strategic mission to become North America's premier energy infrastructure company. Through our focus on People | Priorities | Culture, we charted an exciting new path to grow stronger, more profitable and more purpose driven.
To support our mission, we made a number of strategic decisions:
We honed our geographic focus to the most attractive markets in North America, strengthening our leadership positions in three of the top 15 economies in the world: California, Texas and Mexico.
We narrowed our focus within the energy value chain to electric and natural gas infrastructure where we believe there is an optimal risk/reward profile for our owners.
Finally, we positioned our business to better serve important markets. By investing in North America's liquefied natural gas (LNG) infrastructure, we are poised to unlock cleaner and more reliable energy for tens of millions of consumers in Europe, Asia and the Middle East. This is just the beginning. Today, we are more focused, more disciplined and well-positioned for growth and improved profitability.
PATH TO PREMIER
California
Our California utilities are performing well. They continue to be recognized for excellence in customer service, safety, reliability and clean energy. Last year, San Diego Gas & Electric (SDG&E) won an award for best electric reliability in America, and received the coveted Edison Award for its investments in grid resiliency and the reduction of climate-related vulnerabilities, like wildfires. Southern California Gas Company (SoCalGas) also continues to be a national leader in customer service and is delivering on its promise of operational excellence — modernizing more than 400 miles of the largest gas distribution and transmission network in the U.S. in 2018.
Texas
Last year, we completed the most ambitious transaction in our history, acquiring a majority stake in the largest investor-owned utility in Texas, Oncor Electric Delivery Company LLC (Oncor). This transaction significantly expanded our electric infrastructure business in a growing market — Texas is the second-largest economy in the U.S. We also believe there is a remarkable opportunity for Oncor to continue to invest in critical infrastructure to meet the growing electricity needs of its customers.
Mexico
Our subsidiary, IEnova — one of the largest private energy companies in Mexico — has a strong set of investment opportunities. IEnova continues to make significant progress in the midstream and refined fuels markets to help Mexico diversify its energy supply.
LNG
We also have made significant progress in becoming a leader in LNG export infrastructure in North America. We began the commissioning process on our Cameron LNG joint-venture project in Louisiana and expect to ship the first LNG cargos in mid-2019. In addition to Cameron LNG, we are executing on four other development projects with a goal of building up to 45 million tonnes per annum of LNG export capacity to serve global markets — this is more than the average daily consumption of California, the fifth-largest economy in the world. These projects aim to improve the energy security and carbon footprint of our allies, while supporting U.S. producers of natural gas.
Portfolio Optimization
We also executed several strategic asset sales to focus our investment strategy on the most attractive markets in North America and strengthen our balance sheet. The sales of our U.S. non-utility solar, wind and natural gas storage assets are expected to generate approximately $2.5 billion in proceeds. In early 2019, we also announced our decision to sell our South American businesses, including Luz del Sur S.A.A. in Peru and Chilquinta Energía S.A. in Chile.
PEOPLE | PRIORITIES | CULTURE
Building a high-performing culture begins and ends with unlocking the full potential of our more than 20,000 diverse and talented employees. That is why on my first day as CEO last spring, I announced my focus on People | Priorities | Culture. The goal of this initiative is to reinvest in our employees, lay out a clear vision for the future and align our companies to be even stronger and more focused. To support this initiative, our senior leadership team embarked on a Listening Tour, visiting all four corners of Sempra's family of companies to engage our employees in a conversation about how we can make our company better and more purpose driven. Our employees' commitment to our shared values is critical. Doing the right thing, championing people and shaping the future represent our core values. The growth opportunities ahead of us are exciting. So is our ability to make a positive impact. We are charting our own path as we aspire to become North America's premier energy infrastructure company — delivering energy with purpose.
Ever forward,
Jeffrey W. Martin
Chairman and Chief Executive Officer
Spotlights
Spotlight: Texas
Powering the Lone Star State
How energy opportunities in Texas are a big part of Sempra Energy's future
Sempra Energy's strategic mission is to be North America's premier energy infrastructure company, and there's no place bigger than Texas when it comes to energy.
Texas leads the nation in energy production as the number one producer of oil, natural gas and gasoline. But Texas is more than just an oil and gas state. Texas both produces and consumes more electricity than any other state, and has almost 25,000 megawatts of wind energy capacity.
Last year, Sempra Energy made a bold move through the acquisition of an approximate 80-percent majority interest in Oncor, Texas' largest utility that serves approximately 10 million Texans. Oncor plays a key role in connecting the more than 1,000 new Texans added to the state every day to safe, reliable, affordable power. The Dallas-Ft. Worth Metroplex is one of the fastest-growing metropolitan areas in the country, and booming oil and gas production in the Permian Basin in West Texas will require substantial new electrical infrastructure over the coming decade.
This is creating a big opportunity for Sempra Energy. The company is continuing to grow in Texas through Oncor's planned acquisition of InfraREIT, Inc. — a transmission company that overlaps and is adjacent to Oncor's existing transmission footprint — solidifying Oncor's role in connecting the next generation of renewable energy generation to Texas customers at the lowest rates of any investor-owned utility in Texas.
Whether it's connecting new wind, solar and storage to the Texas grid, or building out infrastructure to serve a booming Texas economy, Sempra Energy's opportunities to continue to grow in Texas are only just beginning.
Spotlight: LNG
Exporting LNG to World Markets
Advancing a goal to become a leader in North America's LNG export market, bringing cleaner and more affordable energy to the world
Across the world, a number of countries are turning to natural gas to reduce the harmful emissions associated with coal.
This is creating a unique energy moment to export LNG, delivering cleaner and more affordable energy, while creating jobs, reducing the trade deficit and improving the energy security of the world.
Sempra Energy, through its subsidiary SoCalGas, has been in the business of serving natural gas customers for more than 150 years and that history — understanding the need to serve customers, seasonality and other market pressures — helps to position Sempra to be a leader in North America's LNG export market.
Sempra Energy's goal is to develop 45 million tonnes per annum of clean LNG export capacity and deliver it to the largest world markets through five strategically located projects in Louisiana, Texas and Mexico, which offer flexibility and scalability to meet current and future global LNG demand. In mid-2019, Cameron LNG is expected to deliver its first cargos, representing a significant milestone for the company.
Spotlight: Community
Committing to Purpose
Sempra Energy employees 'do the right thing' at work and in the community
Sempra Energy prides itself on doing the right thing for its stakeholders. The company is committed to environmental responsibility and strong relationships in the communities it serves — guided by ethics, a focus on safety and standing up for what is right.
In 2018, Sempra Energy employees volunteered more than 80,000 hours in the communities where they work and live.
Employees from SoCalGas rose to the opportunity to fight against homelessness, fundraising with the United Way and taking the time to make "Welcome Home" kits for people transitioning out of homelessness.
Oncor, the largest electric utility in Texas, was once again a major participant in the Dallas Heart Walk, in support of the American Heart Association. Team Oncor was the largest Heart Walk team in the nation in 2018, with approximately 4,000 employees, family members and friends!
In Mexico, IEnova is helping its community rebuild after devastating earthquakes in 2017. The company donated food and supplies to victims, and helped rebuild two public elementary schools in the state of Puebla.
Sempra Energy's commitment to community extends to its focus on safety. This year was one of the safest on-record for all of the Sempra Energy family of companies. SDG&E's work to protect the communities it serves earned the company Edison Electric Institute's nationally respected Edison Award, a testament to SDG&E's efforts with their robust fire-mitigation program which helps to enhance grid resiliency and reduce climate-related vulnerabilities.
About Sempra
Sempra Energy's mission is to be North America's premier energy infrastructure company. With 2018 revenues of more than $11.6 billion, the San Diego-based company is the utility holding company with the largest U.S. customer base. The Sempra Energy® companies' more than 20,000 employees are focused on delivering energy with purpose to approximately 40 million consumers worldwide. Sempra Energy has been consistently recognized for its leadership in diversity and inclusion, social responsibility and investment value.
Sempra LNG & Midstream
Sempra LNG & Midstream develops, builds and invests in liquefied natural gas facilities and midstream natural gas infrastructure in North America.
Southern California Gas Company
SoCalGas is the largest natural gas distribution utility in the U.S., providing safe, reliable and increasingly renewable natural gas service to approximately 21.9 million consumers.
IEnova
IEnova develops, builds and operates energy infrastructure in Mexico, and is one of the largest private energy companies in the country.
San Diego Gas & Electric
SDG&E is an electric and natural gas utility that provides clean, safe and reliable energy to approximately 3.7 million consumers in San Diego and southern Orange Counties.
Oncor Electric Delivery Company LLC*
Oncor, based in Dallas, operates the largest distribution and transmission system in the state, providing safe and reliable service to approximately 10 million Texans.
Sempra South American Utilities**
Chilquinta Energía in Chile and Luz del Sur in Peru invest in electric generation and transmission to provide service to approximately 6.7 million consumers.
* Sempra Energy indirectly owns approximately 80 percent of Oncor.
** Sempra Energy launched a formal sale process in January 2019 to sell its equity interests in the South American Utilities and expects to complete the sale process by the end of 2019.
Financial Highlights
Comparative Total Returns
Ten years ending 12/31/18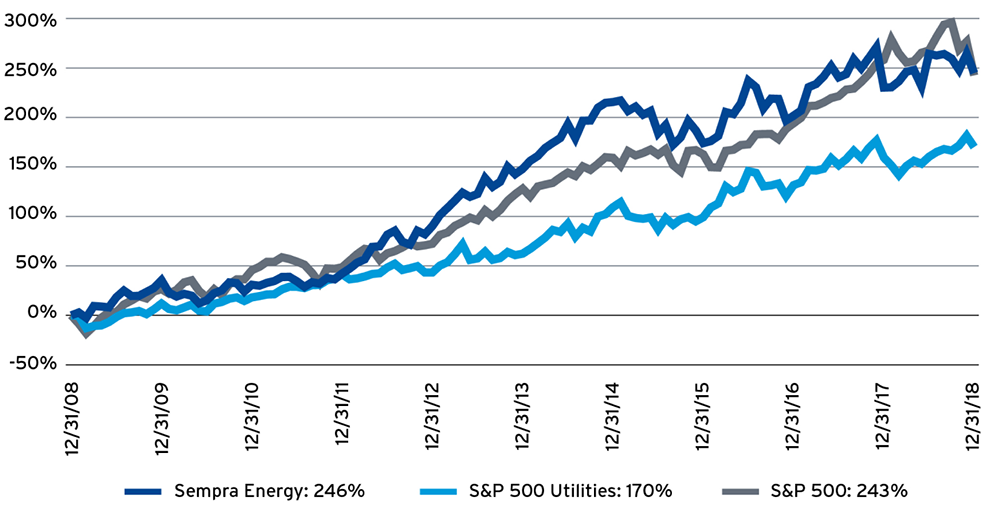 Consolidated Data
Scroll to View More
Dollars in millions, except per-share amounts
2016
2017
2018
Revenues
$10,183
$11,207
$11,687
Earnings
$1,370
$256
$924
Adjusted Earnings1
$1,267
$1,368
$1,503
Earnings Per Share of Common Stock:
Basic
$5.48
$1.02
$3.45
Diluted
$5.46
$1.01
$3.42
Adjusted Diluted1
$5.05
$5.42
$5.57
Weighted Average Number of Common Shares Outstanding (Diluted, in millions)
251.2
252.3
269.9
Total Assets
$47,786
$50,454
$60,638
Common Dividends Declared Per Share
$3.02
$3.29
$3.58
Debt to Total Capitalization
53%
56%
57%
Book Value Per Share
$51.77
$50.40
$54.35
1 Sempra Energy adjusted earnings and adjusted diluted earnings per common share are non-GAAP financial measures (GAAP represents accounting principles generally accepted in the United States of America). For an explanation and reconciliation of these non-GAAP financial measures to Sempra Energy earnings and diluted earnings per common share, the most directly comparable financial measures calculated in accordance with GAAP, please see "Management's Discussion and Analysis of Financial Condition and Results of Operations — Results of Operations — Adjusted Earnings and Adjusted EPS" in the "Sempra Energy 2018 Form 10-K" included herein.