Letter from our Senior VP of Corporate Affairs and Chief Sustainability Officer Lisa Alexander
This letter also appears in our 13th annual Corporate Sustainability Report.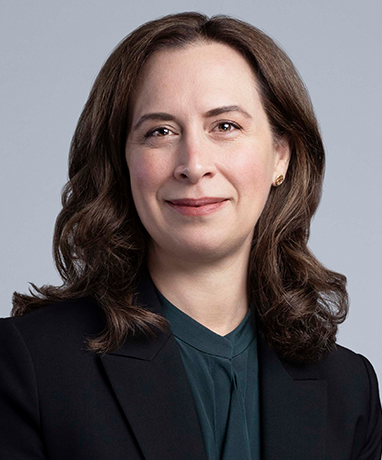 I am pleased to share our 13th annual sustainability report entitled Innovation, Sustainability and Leadership. Every year, we look forward to this opportunity. By publishing these reports, it allows us to share how we create value by managing risks and capturing opportunities related to environmental stewardship, stakeholder engagement, responsible governance and a high-performance culture. Please review the full report for more information.
2020 illuminated the growing relevance of environmental, social and governance factors. Amid severe global and community health impacts, rapidly changing work environments, critical conversations about equity and justice, devastating weather events, and other challenges, the 19,000 employees of the Sempra Energy family of companies delivered on our commitments.
Our dedicated workers energized our hospitals and data centers, fueled the nation's largest ports and logistics operations, warmed our homes and helped lift our communities. I could not be more proud of all our colleagues.
Our 2020 corporate sustainability report highlights examples of our high-performance culture and how our shared purpose and values drive continuous improvement in our performance, including:
Achieving World-Class Safety
Safety remains at the forefront of everything we do. This past year has been no different. Sempra Energy took swift action in response to the COVID-19 pandemic to help protect our employees, contractors and the communities we serve, putting in place comprehensive health and safety protocols across our family of companies. In fact, among other notable accomplishments in 2020 we improved our safety performance, with decreases in the employee recordable injury rate, at every operating company.
Championing People
We continue to advance our high-performance culture in alignment with our vision, mission and values. Essential to this is fostering an inclusive environment and embracing diverse perspectives and backgrounds. This year, our sustainability report includes our action plan to continue our work to make meaningful progress towards this for all our employees, and the communities we serve.
In addition, later this spring we will be disclosing our company's Equal Employment Opportunity 1 (EEO-1) data for the first time to share important progress we are making in and around diversity and workforce composition.
Enabling the Energy Transition and Driving Resilient Operations
We recognize that climate challenges pose risks to the health, safety and prosperity of billions around the globe. Long before the phrase "energy transition" dominated headlines, Sempra's family of companies were advancing programs to decarbonize, diversify and digitalize our energy infrastructure while continuing to deliver reliable and affordable energy to more consumers — 36 million — than any other U.S. utility company.
In addition, our report includes Sempra Energy's enterprise-wide action plan to continue growing our company to meet the evolving needs of our customers, while making critical infrastructure investments with the aim of net-zero across all three scopes by 2050 — emitting no more greenhouse gases than we remove from the atmosphere.
In our company's own unique journey to net-zero, we expect that technology and innovation will be central to our success. But we also understand that our goals require bold leadership, deep collaboration across government, business and communities, and thoughtful, targeted investment. We are excited to tackle this challenge.
Ultimately, we have long believed that delivering durable value depends on serving our stakeholders with purpose. Our clear vision and mission, high-performance culture, disciplined management of risks and opportunities, and authentic, active stakeholder engagement all underpin our performance. On behalf of all our employees across our family of companies, I appreciate your thoughtful interest in our sincere efforts to build a better, more impactful company.
Onward,

Lisa Larroque Alexander
Senior Vice President, Corporate Affairs, and Chief Sustainability Officer
---
This article contains statements that constitute forward-looking statements within the meaning of the Private Securities Litigation Reform Act of 1995. Forward-looking statements are based on assumptions with respect to the future, involve risks and uncertainties, and are not guarantees. Future results may differ materially from those expressed in any forward-looking statements. These forward-looking statements represent our estimates and assumptions only as of the date of this article. We assume no obligation to update or revise any forward-looking statement as a result of new information, future events or other factors.
In this article, forward-looking statements can be identified by words such as "believes," "expects," "anticipates," "plans," "estimates," "projects," "forecasts," "should," "could," "would," "will," "confident," "may," "can," "potential," "possible," "proposed," "in process," "under construction," "in development," "target," "outlook," "maintain," "continue," or similar expressions, or when we discuss our guidance, priorities, strategy, goals, vision, mission, opportunities, projections, intentions or expectations.
Factors, among others, that could cause actual results and events to differ materially from those described in any forward-looking statements include risks and uncertainties relating to: California wildfires, including the risks that we may be found liable for damages regardless of fault and that we may not be able to recover costs from insurance, the wildfire fund established by California Assembly Bill 1054 or in rates from customers; decisions, investigations, regulations, issuances or revocations of permits and other authorizations, renewals of franchises, and other actions by (i) the Comisión Federal de Electricidad, California Public Utilities Commission (CPUC), U.S. Department of Energy, Public Utility Commission of Texas, and other regulatory and governmental bodies and (ii) states, counties, cities and other jurisdictions in the U.S., Mexico and other countries in which we do business; the success of business development efforts, construction projects and major acquisitions and divestitures, including risks in (i) the ability to make a final investment decision, (ii) completing construction projects or other transactions on schedule and budget, (iii) the ability to realize anticipated benefits from any of these efforts if completed, and (iv) obtaining the consent of partners or other third parties; the resolution of civil and criminal litigation, regulatory inquiries, investigations and proceedings, and arbitrations, including, among others, those related to the natural gas leak at Southern California Gas Company's (SoCalGas) Aliso Canyon natural gas storage facility; the impact of the COVID-19 pandemic on our capital projects, regulatory approval processes, supply chain, liquidity and execution of operations; actions by credit rating agencies to downgrade our credit ratings or to place those ratings on negative outlook and our ability to borrow on favorable terms and meet our substantial debt service obligations; actions to reduce or eliminate reliance on natural gas, including any deterioration of or increased uncertainty in the political or regulatory environment for local natural gas distribution companies operating in California, and the impact of volatility of oil prices on our businesses and development projects; weather, natural disasters, pandemics, accidents, equipment failures, explosions, acts of terrorism, computer system outages and other events that disrupt our operations, damage our facilities and systems, cause the release of harmful materials, cause fires and subject us to liability for property damage or personal injuries, fines and penalties, some of which may not be covered by insurance, may be disputed by insurers or may otherwise not be recoverable through regulatory mechanisms or may impact our ability to obtain satisfactory levels of affordable insurance; the availability of electric power and natural gas and natural gas storage capacity, including disruptions caused by failures in the transmission grid, limitations on the withdrawal of natural gas from storage facilities, and equipment failures; cybersecurity threats to the energy grid, the storage and pipeline infrastructure, the information and systems used to operate our businesses, and the confidentiality of our proprietary information and the personal information of our customers and employees; expropriation of assets, failure of foreign governments and state-owned entities to honor their contracts, and property disputes; the impact at San Diego Gas & Electric Company (SDG&E) on competitive customer rates and reliability due to the growth in distributed and local power generation, including from departing retail load resulting from customers transferring to Direct Access and Community Choice Aggregation, and the risk of nonrecovery for stranded assets and contractual obligations; Oncor Electric Delivery Company LLC's (Oncor) ability to eliminate or reduce its quarterly dividends due to regulatory and governance requirements and commitments, including by actions of Oncor's independent directors or a minority member director; volatility in foreign currency exchange, inflation and interest rates and commodity prices and our ability to effectively hedge these risks; changes in tax and trade policies, laws and regulations, including tariffs and revisions to international trade agreements that may increase our costs, reduce our competitiveness, or impair our ability to resolve trade disputes; and other uncertainties, some of which may be difficult to predict and are beyond our control.
These risks and uncertainties are further discussed in the reports that Sempra Energy has filed with the U.S. Securities and Exchange Commission (SEC). These reports are available through the EDGAR system free-of-charge on the SEC's website, www.sec.gov, and on the company's website, www.sempra.com. Investors should not rely unduly on any forward-looking statements.
Sempra North American Infrastructure, Sempra LNG, Sempra Mexico, Sempra Texas Utilities, Oncor and Infraestructura Energética Nova, S.A.B. de C.V. (IEnova) are not the same companies as the California utilities, SDG&E or SoCalGas, and Sempra North American Infrastructure, Sempra LNG, Sempra Mexico, Sempra Texas Utilities, Oncor and IEnova are not regulated by the CPUC.