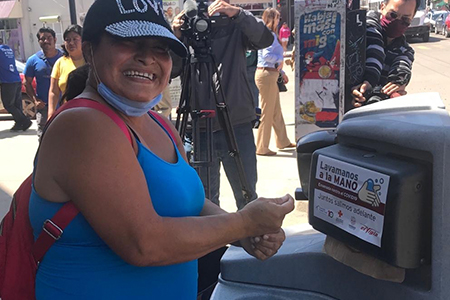 With the pandemic affecting communities across the globe, the Sempra Foundation and our entire family of companies remain steadfast in providing aid to vulnerable populations within our service areas. Together, we've contributed over $10 million to COVID-19 relief efforts.
This includes supporting our key markets of California, Texas and Mexico, and in Chile. Our Chilean businesses, including Chilquinta Energía S.A. and Tecnored S.A., are deeply engrained in the communities they serve and Sempra Energy is pleased to continue this spirit of community service as we advance the sale of our Chilean businesses.
Uplifting Communities in Mexico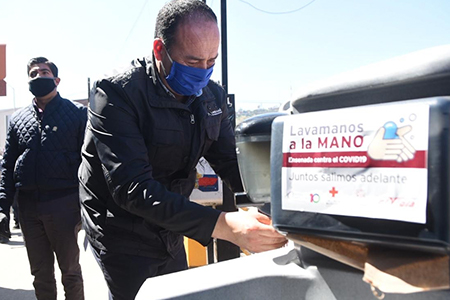 IEnova, a Sempra Energy company that develops, builds and operates energy infrastructure that drives the development of Mexico, is donating 50 million pesos, or approximately $2 million USD, in COVID-19 relief aid across the country.
"At IEnova we have always been committed to the well-being and development of Mexico, and due to the health challenge we face today, we reiterate our commitment with an unprecedented effort, through the donation of approximately $50 million pesos, to support those who need us most: our communities," said Tania Ortiz Mena, Director General of IEnova.
Fundación IEnova will spearhead the allocation of funds toward medical equipment for front-line workers and food supplies for vulnerable populations.
During its first stage of emergency response, Fundación IEnova is working with Save The Children Mexico to support communities in Baja California and Sonora. During the first phase, more than 1,000 hygiene and health kits and more than 5,000 food packages will be delivered to benefit families across Mexico.
In Baja California, Energía Costa Azul installed public hand washing stations in the City of Ensenada. With the installation of hand-washing stations in public areas, those who are out in public now have access to water and soap to prevent the spread of the coronavirus.
In addition to the support that will come from Fundación IEnova, the Ensenada Trust, created by Energía Costa Azul in 2004, committed up to $680,000 for health prevention equipment to help the City of Ensenada cope with the ongoing pandemic.
ECOGAS, a subsidiary of IEnova that offers natural gas distribution in the states of Mexicali, Chihuahua, La Laguna and Durango, provided their services free of charge during April and May to hospitals, clinics and retired customers, with payment flexibility policies available for its other consumers.
Last Friday, Fundación IEnova also announced the donation of 250 ventilators to directly help people in Mexico who have contracted COVID-19.
Sempra Energy is also stepping in to see how we can lend even more support to growing needs in Tijuana, which has now become the second-leading epicenter behind Mexico City in COVID-19 cases.
Making a Positive Impact in Chile
Sempra Energy and Chilquinta Energía recently donated 180 million Chilean pesos, or approximately $200,000 USD, to two institutions who work with populations directly affected by COVID-19.
The first recipient, Hogar de Cristo, or Home of Christ, is dedicated to helping the country's most vulnerable populations in this challenging time. The donation, equivalent to 90 million Chilean pesos or $100,000 USD, will benefit the organization's Home Care Program, specifically in Valparaiso, Villa Alemana, San Felipe, San Antonio and Quintero.
The second recipient is Patronato de los Sagrados Corazones, or the Foundation of the Sacred Hearts, a non-profit institution that serves children and young people at social risk in Valparaiso, Chile. The resources will go toward providing a protective residence that will house children between ages three and six. Additionally, our support will help fund another residence for pregnant women, adolescent mothers and their nursing children.
"We are very grateful to be able to support these two admirable institutions and collaborate in helping the people and communities of the Valparaiso Region who need it most in these difficult times," said Dennis Arriola, Executive Vice President of Sempra Energy and Chairman of the Board of Chilquinta Energía. "It is a reflection of the spirit of service and responsibility of our company and its collaborators towards the community in which we operate."