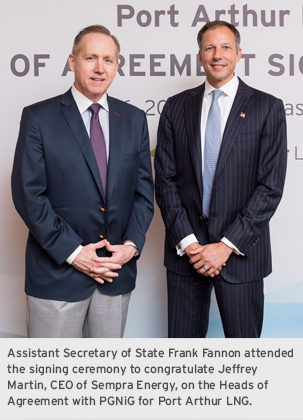 Joined by Jeffrey Martin, CEO of Sempra Energy and Piotr Woźniak, CEO and president of the management board at Polish Oil & Gas Company (PGNiG), Octavio Simões, president of Sempra LNG & Midstream, signed a heads of agreement to deliver liquefied natural gas (LNG) to PGNiG from the proposed Port Arthur liquefaction project in Jefferson County, Texas starting in 2023.
The agreement defines basic terms and conditions of a 20-year contract to be finalized between the parties for the sales and purchase of two million tonnes per annum (Mtpa) of LNG, which equals about 2.7 billion cubic meters (bcm) per year of natural gas following regasification.
Cargoes will be supplied starting in 2023 from the Port Arthur LNG facility being developed in Jefferson County, Texas. The documents were signed today during the current World Gas Conference in Washington, D.C.
"The Port Arthur liquefaction project is one of three major LNG export projects Sempra Energy is developing in North America to meet the demand of global markets, including Poland," said Joseph A. Householder, president and chief operating officer of Sempra Energy. "This agreement along with PGNiG's financial strength and experience in delivering natural gas to customers are important to advancing the Port Arthur liquefaction project."
"We are pleased to have PGNiG as a foundation customer of the Port Arthur LNG project," said Simões. "We look forward to working with PGNiG to finalize the LNG supply agreement that will provide low-cost, flexible and reliable U.S. LNG to PGNiG and bring competitively priced natural gas to the Polish and other European gas markets."
This announcement represents another step in the ongoing development of the Port Arthur LNG liquefaction project. In 2017, Sempra LNG & Midstream signed a Memorandum of Understanding (MOU) with Korea Gas Corporation (KOGAS) providing a framework for cooperation, including engineering and construction, operations, equity ownership in the Port Arthur LNG liquefaction project, and offtake of LNG. The ultimate participation of KOGAS and PGNiG in the project remains subject to finalization of definitive agreements.
The Port Arthur LNG liquefaction facility is planned to export approximately 11 Mtpa of LNG starting in 2023. Last week, Bechtel was selected by Port Arthur LNG to be the engineering, procurement, construction and commissioning (EPC) contractor. Development of the Port Arthur LNG liquefaction project is contingent upon obtaining customer commitments, completing the required commercial agreements, securing all necessary permits, obtaining financing, incentives and other factors, and reaching a final investment decision.