This is an excerpt from Chairman and CEO Jeff Martin's comprehensive letter to shareholders.
Dear fellow shareholders: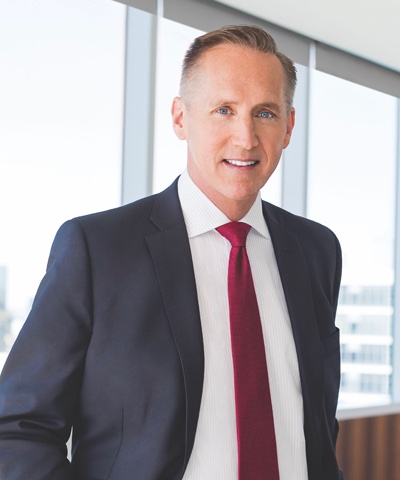 While this past year has brought many unexpected challenges, I am optimistic about what lies ahead. We have seen people from all walks of life persevere and come together to support one another in ways that are inspirational to all of us. As vaccination programs expand across America and we look to rebuild the greatest economy in the world, we are also reminded of the vital role of energy.
Energy — and the critical infrastructure that delivers it — are foundational to all aspects of daily life. As the global pandemic has underscored, it powers healthcare facilities, first responders and other critical services. It also empowers millions of people working or studying from home and many more who are relying on us every day for the energy they need to power their lives and businesses.
That is why I have been profoundly inspired by the work of our employees. They have displayed great leadership, resilience and an unwavering commitment to doing the right thing over the past year. They have continued to deliver energy with purpose to our more than 36 million consumers in North America, and many more around the world, during a time when our customers needed it most.
Safety is a foundational value at Sempra Energy, guiding how we serve our customers and communities during times of great crisis. Our operating companies innovated to develop new ways for our employees to continue working safely when the world around us demanded it.
Our resilience over the past year makes me even more optimistic for the future. We are continuing to focus on innovation, sustainability and leadership as we strengthen our investments and work toward a net-zero carbon footprint. By aiming higher, and thinking differently, we believe we can help solve some of our society's greatest challenges.
Despite unprecedented events, we continued to execute on our strategic mission to be North America's premier energy infrastructure company. To read more about our accomplishments in 2020, please refer to the full shareholder letter.
Shaping the Future of Energy
Each of our operating companies is playing a key role in delivering essential energy to some of the biggest economies in the world. We are delivering cleaner forms of energy to our customers while concentrating our investments in transmission and distribution infrastructure — the section of the energy value chain that we believe provides attractive, risk-adjusted returns to our owners.
Advancing Our High-Performance Culture
We believe we have the best workforce in the industry and our high-performance culture continues to set us apart. Our company's culture is underpinned by a focus on safety. In 2020:
The construction activities for Cameron LNG Phase 1 concluded with a remarkable safety record of more than 89 million hours without a lost-time incident;

SDG&E and SoCalGas both achieved record-setting safety performances in 2020 with their lowest injury and lost-time incident rates on record;

Oncor logged 10 million hours without a lost-time incident; and

IEnova achieved a 99th percentile score in health and safety according to a survey conducted in coordination with the U.S. National Safety Council.
Across our family of companies, we are realizing the benefits of our safety-focused mindset in which everyone feels responsible for their own safety as well as the safety of others.
Another key factor in our high performance is our long-standing commitment to an inclusive workplace, where we value diverse views, backgrounds and experiences. We believe these factors improve decision making, advance innovation, and ultimately deliver a culture that reflects the ideal of service to others. This year, we will continue to take concrete actions to advance our high-performance culture and maintain a workplace where everyone feels empowered to bring their authentic and best selves to work.
Driving Sustainable Value
Looking ahead, we are committed to expanding our position as a leader in the North American markets where we operate: California, Texas, Mexico and the LNG export market. We are working to enhance the value of energy infrastructure for customers across North America, while expanding lower-carbon energy choices and energy access and affordability.
As the owner of one of the largest energy networks in North America, we are confident that our strategy of making critical new investments primarily focused on transmission and distribution infrastructure will help accelerate the energy transition. Our role in the energy value chain will help us assert a leadership position in helping to decarbonize every market we serve. Moreover, we also expect these activities to increase shareholder value by producing strong organic growth and improved earnings visibility.
At Sempra Energy, we have set out to boldly build a different type of energy company — one that is focused on the empowering value of energy infrastructure. As a purpose-driven and values-led company, we are striving to build a cleaner and smarter grid as part of our commitment to help lead a carbon-neutral society, while also delivering increased value to our shareholders.
I am proud to lead an amazing leadership team, as well as one of the most talented workforces in our industry. In everything that we do, you can count on us to prioritize creating sustainable value for our shareholders and other stakeholders as we work to have a positive impact in our communities and our society.
Ever forward together,
Jeffrey W. Martin
Chairman and Chief Executive Officer
---
This article contains statements that constitute forward-looking statements within the meaning of the Private Securities Litigation Reform Act of 1995. For more information, please review Sempra's comprehensive forward looking statements.