June is National Safety Month
As we navigate through these challenging times and work to protect our employees, customers and the communities we serve, our commitment to world-class safety, both for the public and our employees, remains more important than ever.
Amid the COVID-19 pandemic, Sempra Energy employees have gone above and beyond. Some are considered essential and continue to report to their usual work location to keep the power on and projects moving, others have adapted to working remotely while continuing to spearhead safety efforts, and there are those who are leading the way to create an even safer work environment for us all. What they all have in common is their tremendous contribution to the Sempra family of companies as we work to achieve our mission to be North America's premier energy infrastructure company.
Below are employees from each of our companies who exemplify doing the right thing—one of our core values—through their dedication to safety.
Adam Manley
Technical Engineer for PXiSE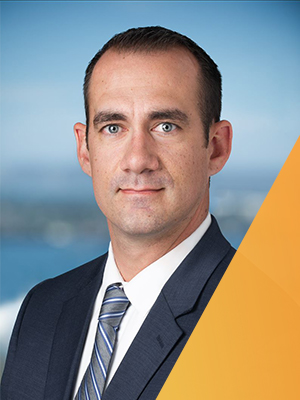 For PXiSE to safely provide its innovative technology solutions, it takes engineers like Adam Manley who are out in the field deploying the company's state-of-the-art technology.
"I'm always walking into active construction sites where high voltage electric infrastructure and other dangers are present," says Manley.
With safety hazards constantly looming, Manley needs to stay on high-alert in order to complete his job duties.
"At the sites I visit, we are working with high voltage electricity and often in places where snakes and scorpions can be out—so your head has to be on a swivel."
Therefore, prioritizing personal and company safety is of the utmost importance for Manley. Having been with the Sempra Energy family of companies for 14 years, he understands that the collective success of Sempra Energy depends on the safety precautions taken by each individual employee.
"Safety drives every other aspect of the business. If I don't prioritize safety, it delays a customer's project," says Manley. "Safety impacts everyone."
Maricela Gomez
District Operating Clerk for SoCalGas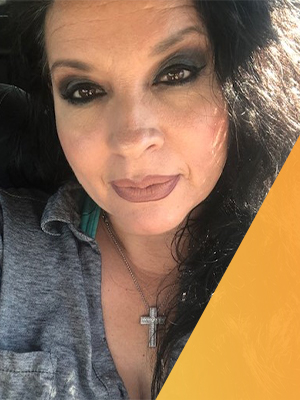 For SoCalGas to ensure the safe and reliable delivery of critical natural gas infrastructure from the El Centro Base, district operating clerk Maricela Gomez prioritizes safety every single day.
"Safety is important to me because not only is it good for business, but it can help save someone from injury or illness," says Gomez.
Gomez works tirelessly on behalf of the Desert Valley Safety Committee and empowers others to take ownership to enhance the safety program. The Committee's distracted driving simulator was presented at more than a dozen locations company-wide and Gomez even donated her personal time to bring the simulator to the community at the California Mid-Winter Fair in partnership with the California Highway Patrol.
With COVID-19 presenting new and unique challenges to safety, Gomez understands that she must be even more cognizant of taking the necessary health precautions to protect herself and her team, even while working from home.
"Even though I am currently work from home, that does not mean I should be complacent with the ongoing challenges we are facing," says Gomez. "I keep up with the information provided to me by the company and read the policies sent to me."
Gomez stresses that learning from her peers across the Sempra family of companies has helped her improve her understanding of safety. "Keeping ourselves engaged brings a better understanding of safety and how it affects each person's role."
William Belka
Chief Building Engineer at Sempra HQ, and the Porter Crew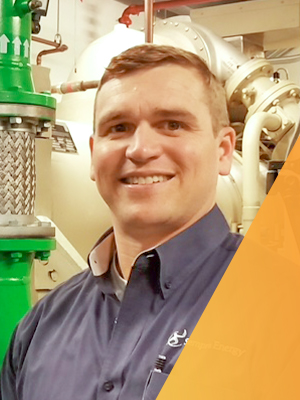 While many Sempra Energy HQ employees continue to work from home, William Belka and the HQ facilities team, also known as the Porter Crew, are working hard to ensure HQ is equipped with proper safety measures when the time comes for employees to return to the office.
"Our goal is to provide a safe workplace environment for employees, guests and contractors," says Belka. "Knowing the building is kept to the latest and best practice safety standards reduces stress."
Belka's building engineering team protocols include comprehensive review and testing of building heating and cooling systems, while also evaluating air changes per hour and outside air velocity to ensure proper ratios. The team has performed indoor air quality testing and is currently exploring needlepoint bipolar ionization air purification systems.
The HQ facilities team of Arroyo, Lopez and Torres handle the cleaning, disinfecting, and sanitizing of Sempra HQ during business hours, including common areas like the main lobby entrance, restrooms and breakrooms on each floor. Their work is now more important than ever.
When it's safe to return to headquarters, employees can be rest assured that Belka and the team will continue to prioritize their health and safety over all else.
Ronnie Aquino
Director of Construction for Cameron LNG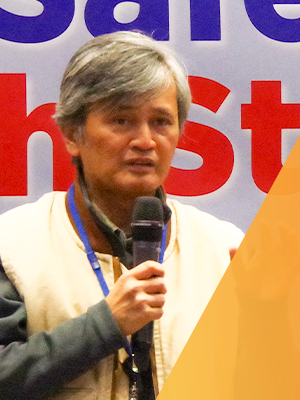 After nearly 15 years with the company, it's safe to say that Ronnie Aquino understands the importance of everyday safety as we work to achieve our mission of becoming North America's premier energy infrastructure company. "Safety is a way of life," says Aquino.
For Aquino, a focus on safety is important not only to ensure the safe delivery of liquefied natural gas (LNG) around the world, but also to protect lives, prevent injuries and avoid property damage.
Safety remains top of mind every day as he conducts his morning safety briefing and he regularly performs job walks, and at times, exercises his 'stop work authority', which means pausing a project if the safety of employees is compromised at any point.
The COVID-19 pandemic has affected Aquino's daily activities as an essential worker.
"The COVID-19 pandemic reinforces our responsibility as individuals to follow CDC guidelines, preventing the spread of the virus and protecting the vulnerable," says Aquino.
While following widely recognized safety protocol is one critical aspect of ensuring safe operations at Cameron LNG, Aquino believes that a positive and safe employee culture is also vital to operations amid the pandemic.
"Nurturing an environment that creates positive behavior while adapting to change provides a solid foundation for a sustainable safety culture."
Ray Plummer
Senior Safety Advisor at SDG&E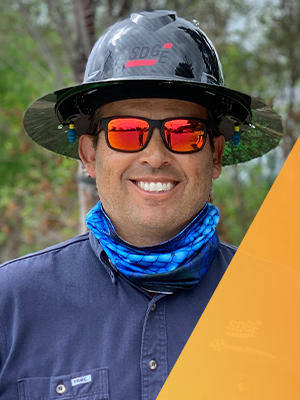 Over the course of his 20 years with SDG&E, Senior Safety Advisor Ray Plummer has seen the impact that prioritizing safety on a daily basis has had on the company's success.
"Safety impacts so much more than just the actual employee performing the work," says Plummer. "If an incident happens, think of the negative ripple effect and how it can damage people, families, loved ones and careers."
With steep consequences and a constant pressure to perform, Plummer says that his own daily approach involves weaving in positive, safety-driven interactions with his coworkers, especially amid COVID-19.
"I think the pandemic has actually brought our company closer. I love how much more folks are checking in on their teams, making sure they are doing well."
Although his focus on safety is a perfect example of doing the right thing, Plummer cares deeply about championing people. "Safety has to be personal and I care about every one of my co-workers. I try to make things personal with my messages whether it's training, videos or just in casual conversations," says Plummer. "Once someone makes the decision to make safety personal, they will help make everyone around them safer."
Maria Arredondo
Protection & Control Technician for Oncor Transmission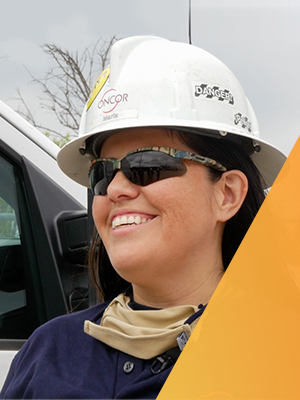 As a protection and control technician, Maria Arredondo knows a thing or two about safety, something that's especially important when ensuring the massive Oncor power grid is delivering reliable and safe energy to millions of people across Texas.
"Because of the type of work we do, safety has to be a priority each and every day on the job," says Arredondo. "Nothing is more important. At Oncor, safety is our number one priority."
Whether it's taking the necessary precautions out in the field by wearing the proper personal protective equipment or utilizing flame-resistant masks that are specially made for the type of work carried out by Oncor technicians, Arredondo and her team are always prepared.
"On our team, we all look out for one another," says Arredondo. "Everybody takes care of each other. Everybody makes sure that we're all safe."
Prioritization of safety across the team and company-wide allows Oncor and the entire Sempra Energy family of companies to operate efficiently and effectively.
"I feel like Oncor has always cared about our safety first," says Arredondo. "It would be really hard to find another company that cares this much about you and about making sure that you're working as safely as you possibly can."
Mitzli Maldonado
Health and Safety Leader at IEnova
As a health and safety leader at IEnova, Mitzli Maldonado leads several company projects around safety while constantly ensuring all safety guidelines and standards are followed and up-to-date and communicated in a timely manner.
"In short, safety is about doing the right thing," says Maldonado. "At IEnova we really believe this and act on it."
The importance of doing the right and working towards a safe IEnova has been vital for Maldonado, the health and safety team and IEnova leadership to coordinate throughout the COVID-19 pandemic so that the company's essential workers remain safe and informed when showing up to work each day.
"Things are different," says Maldonado. "We now have new health-related preventive measures, entrance filters, close follow-up of personnel with any symptoms, to name a few. It may sound simple, but it requires discipline and commitment not only from the health and safety team, but from upper management."
Maldonado attests that she's learned a lot of lessons from COVID-19, and that the experience will make the company "better and stronger." Her preparation for unexpected health and safety scenarios is a true testament to our value of doing the right thing.