By Jeffrey Martin, Chairman and CEO of Sempra, and H.R. McMaster, Former U.S. National Security Advisor, Ret. Lt. General, United States Army and Senior Fellow at the Hoover Institution
This opinion piece initially appeared in Eurogas' newsletter on June 17, 2021.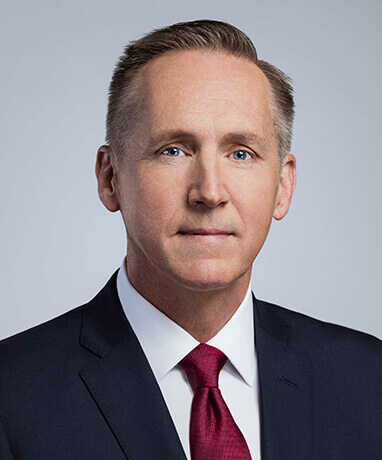 More than a year after a pandemic brought global economies to a halt, many communities around the world are still reeling. Today, we are facing two formidable challenges: a post-COVID recovery and a climate crisis. Both require international cooperation and the acceleration to cleaner, affordable and reliable energy systems. With the United States re-joining the Paris Agreement, expanding cooperation between the U.S. and Europe holds renewed promise for greater alignment with other regions of the world as well as critical new innovations in the production, transportation and consumption of energy.
But the Paris Agreement is just the start. Addressing the interconnected global challenges of reducing carbon emissions, ensuring access to clean energy, and improving food and water security will require a collaborative, systemic and holistic approach. Addressing one challenge at a time can exacerbate others and perpetuate rather than prevent the dangers of climate change.
The priority action that has broad political and commercial appeal not only in prosperous nations, but also in developing economies, is to produce more energy for more people with lower carbon content.
The development of cleaner and affordable energy overcomes one of the most fundamental flaws with climate proposals: single-country solutions. The International Energy Agency (IEA) concluded in its 2021 World Energy Outlook that unilateral approaches will not work. "In the absence of greater international cooperation, it will take several decades longer to reach net-zero emissions globally," said IEA Executive Director Fatih Birol. Indeed, in the absence of commercially viable solutions to reduce greenhouse gas (GHG) emissions, China, India and other developing economies experienced a 1.5 percent increase in emissions per year in the four years following the signing of the Paris Agreement.
Lowering Emissions, Fueling Growth
There is another path forward. The U.S., which has long recognized that energy security is vital to national security, offers a case study on how to lower carbon emissions while fueling economic growth. The IEA's 2020 World Energy Outlook noted that the U.S. led the world in the largest reduction of man-made GHG emissions over the last 20 years (down almost 1 gigaton from a 2000 peak). Expanding investments in renewable power generation while using abundant natural gas (with its lower emissions footprint) precipitated a dramatic decline in coal's share of U.S. electricity generation.
In just 12 years, coal-fired power generation went from providing nearly half of America's energy to less than 22 percent. Even more remarkable is that these reductions took place at the same time as significant economic expansion and rising energy demand. By diversifying its energy supply to include lower- and zero-carbon fuels, the U.S. was able to ramp up electricity generation to support a doubling of its GDP while effectively lowering man-made emissions. Other countries can replicate that success. The impact of displacing coal was made even more clear in the recent Group of Seven (G7) call to halt all government support for the use of coal in power production.
Committing to Energy Diversification
The European Union's (EU) commitment to energy diversification has yielded similar achievements. As the biggest importer of natural gas in the world, the EU has been a leader in the development of liquefied natural gas (LNG), its associated infrastructure and the creation of liquid and transparent natural gas markets. A recent S&P Global Platts story noted how Europe is steadily cementing a key leadership role in the global LNG trade: "Today, when talking about the future of European gas supply, LNG is firmly viewed as a core part of the supply stack; critical to meeting long-term demand," the article said.
No longer dependent on a few dominant suppliers, diversification of the EU's natural gas supplies and a notable uptick in U.S. LNG imports has also supported market competitiveness and set the stage for maximizing further renewable penetration.
Investing in the Future
Over the next two decades, the greatest challenge lies outside the U.S. and EU. The IEA projects that emerging and developing economies, including China, will account for 90 percent of the growth in global GHG emissions. This projection highlights why access to affordable and diverse energy supplies is essential to reduce carbon emissions while supporting stable and prosperous economies. The growth of affordable renewable energy in these markets will help but ultimately only meet about 28 percent of the world's total energy demand by 2050.
Moreover, for countries with waning natural gas production, LNG offers an important way to continue expanding renewable energy. The U.S. and EU are poised to achieve quick wins for the climate by displacing coal and oil with natural gas not just in power grids, but also in manufacturing and other hard-to-decarbonize sectors. Smart, new infrastructure investments that enable these GHG reductions today will also propel tomorrow's energy technologies. On the horizon is a hydrogen economy that can be powered with cleaner molecules as emerging technologies come online.
This is the decisive decade for tackling climate change, and we are optimistic. Just as the rapid development of vaccines was foundational to overcoming the global pandemic, clean and adoptable energy solutions are essential to attacking the threat from climate change, while also overcoming other interconnected challenges to global security and prosperity. In conclusion, it is not a Hobson's choice between economic growth and sustainable initiatives to mitigate climate change. Leadership and international cooperation with the right priorities can advance energy security, economic prosperity and environmental progress.