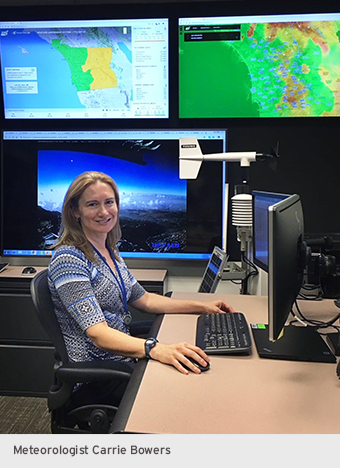 Southern California is preparing for another high-risk fire season. Rising temperatures, prolonged drought conditions and severe weather patterns all present the region with an on-going challenge – an increased potential for devastating wildfires year-round.
To combat this threat and protect the communities it serves, San Diego Gas & Electric (SDG&E) created a Fire Science and Climate Adaptation Department, dedicated to identifying mitigating solutions to the challenges of a dramatically changing climate. The resources and tools developed and used in the department to monitor weather conditions and protect the region are commonly referred to as "best in class."
One of the newest team members of the department is meteorologist Carrie Bowers whose specialty is fire science. Carrie was a wildland firefighter for nine years prior to becoming a meteorologist. Her firefighting experience, coupled with her meteorology knowledge helps SDG&E navigate the "new normal" – year-round wildfire risks.
The department has helped unveil numerous enhancements over recent months to improve public safety and help ensure customers and communities in the utility's service territory are better prepared for wildfire emergencies.
SDG&E's comprehensive fire-risk mitigation program was recently recognized by the Edison Electric Institute. The company received the 2018 Edison Award, the electric power industry's most prestigious honor, for its investments to enhance grid resiliency and to reduce climate-related and weather-related vulnerabilities, like wildfires, to ensure the reliable operation of the region's energy grid for generations to come, this includes:
New electric equipment that will minimize customer outages when SDG&E needs to turn off power for safety in high-fire-threat areas;

Availability of the nation's largest water-dropping aircrane every single day of the year (increased from 4 months in past years);

Establishment of eight community resource centers to serve as a location where SDG&E customers can go when circuits are shutoff in their area; and

A dedicated wildfire safety webpage for around-the-clock weather information, live views of fire-threat areas and additional safety information.
These collective measures, combined with a collaborative working relationship with the County of San Diego, local jurisdictions and the State of California are key to ensuring the safety of the region.