Championing people and doing the right thing are two of Sempra's values on full display as we help make new homes a reality for two deserving U.S. Army veterans.
Former Army Specialist Kisha Dorsey and Former Army Sergeant James Ford will soon move into new homes built by PulteGroup, Inc. in the Houston suburbs, and donated through their Built to Honor program to Operation Homefront. After successfully completing a comprehensive program with Operation Homefront caseworkers and financial counselors who will help them prepare for long-term home ownership, the families will be deeded the homes mortgage-free. These homes and services were made possible thanks to PulteGroup, Inc. and a $50,000 grant by Sempra to Operation Homefront.
Helping veterans like Kisha Dorsey become homeowners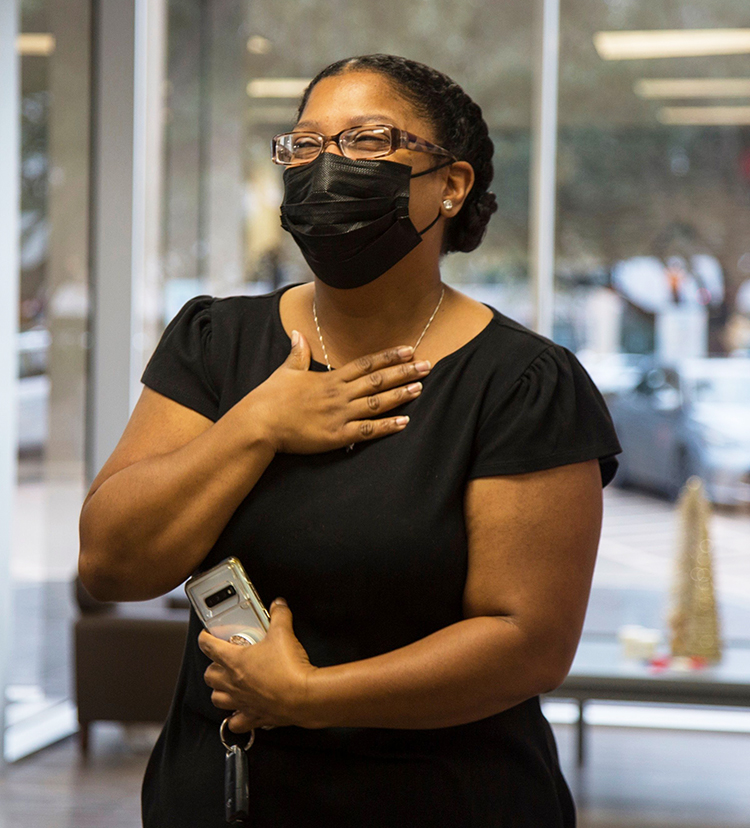 Kisha Dorsey proudly served in the U.S. Army until the physical demands of military life took its toll and injuries forced her to retire. She faced a new set of obstacles returning to civilian life, including losing her job and enduring tough economic circumstances. For a time, she thought she'd have to move into a homeless shelter or live on the streets because she couldn't afford housing.
Kisha is a loving, single mom with two boys, one of whom was born with autism after suffering a stroke in utero. Her perseverance and drive landed her a new job as a payroll administrator for Lone Star College in Houston where she works to provide for her sons and to give them access to critical health and developmental services. Owning a home will help meet her sons' needs and set up her family for success. She told us if she could draw her dream home, it would look a lot like the one she is being awarded in the Houston suburb of Hockley, Texas.
"It checks all of the boxes," she said of her new home. "I have a great community in that area. It is in a safe neighborhood and it will be amazing just to own a home. All the rest is for my kids, but that part is the dream for me. To be a homeowner will make my day and my year and my decade. It will make all of the struggle and striving so worth it."
Empowering veterans like James Ford to succeed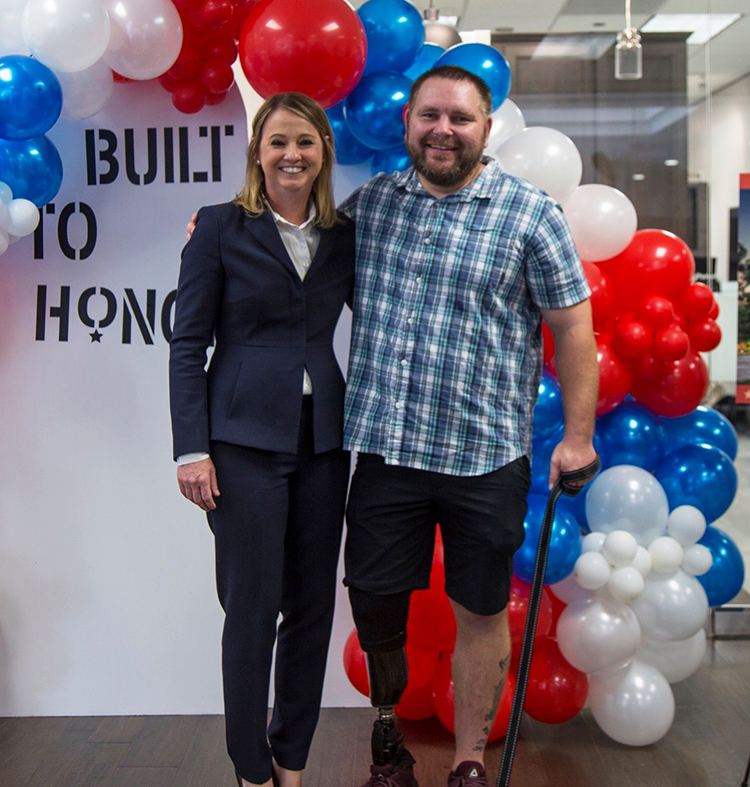 The second veteran to receive a home is James Ford. Former Army Sergeant and combat engineer, Ford planned on a long military career but an enemy attack in Afghanistan resulted in the loss of his right leg below the knee. Despite the severe injury, Ford is focused on not letting anything hold him back. He is in the process of completing a master's degree at Texas A&M and plans to pursue a Ph.D. in ecology and evolutionary biology at Rice University in Houston. The awarded home will help give Ford's family, two kids and his service dog, a place to settle down.
"It will mean so much," Ford said of the new house. "My daughter will have her own room and the option to do with the space what she wants."
He is also hopeful the new, mortgage-free home will allow him to give back to fellow disabled veterans in the future. After school, James wants to form his own research company that would employ disabled veterans.
Championing people with Operation Homefront
Operation Homefront is a national nonprofit co-headquartered in San Antonio, Texas and Arlington, Virginia, focused on building strong, stable and secure military families so they can thrive in the communities they've worked so hard to protect. The organization's Permanent Homes for Veterans program has helped more than 700 veterans since its inception in 2012 with an opportunity to move into their own homes, mortgage-free, thanks to the generous support of individual and corporate donors.
At the end of January, the local Houston community gathered with these veteran families at the groundbreaking event, officially kicking off the construction process for both homes.
With a mission to be North America's premier energy infrastructure company, Sempra is focused on building resilient energy networks to support a growing Texas economy. Putting our energy behind Texas means not only moving our business forward, but actively supporting Texas communities and organizations that are addressing some of the greatest social needs in the state.
Find out more about the different ways Sempra strives to champion people and strengthen our Texas communities.